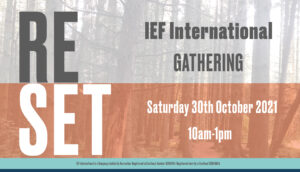 We are please to extend out an invitation to the IEF half day gathering RESET in Edinburgh. As a ministry, we have seen many new beginnings and we are developing new structures to see IEF thrive in the future. For the conference, our hope is to have John Sode-Woodhead in person and a special guest Yohanan Stanfield live from Israel. (All subject to Covid Restrictions.)
About the Programme:
The programme will incorporate three sessions, breaks, time for questions and prayer. After the sessions, there will be an opportunity to connect with John over lunch.
Biblical Geography in the Assyrian period.
Special Guest Yohanan Stanfield sharing live from Israel
John – update on IEF
Introducing Yohanan Stanfield:
John shared about his connection to Yohanan: 'Yohanan and I first met when he was a first year student of theology at the University of Edinburgh. After growing up in Uganda, he arrived in Edinburgh with a passion to serve the Lord in ministry. Our ways parted for a few years as he moved to Glasgow to complete his degree and I eventually returned to Israel. When we did meet again it was in Israel. The Lord had led him to Israel and this calling became clear through his studies at the Hebrew University, eventually completing a PhD on Isaiah. During this time he also received Israeli citizenship, which was highly unusual, and served in the IDF. He founded the Lech L'cha discipleship ministry and pastors a Messianic Congregation in Modi'in. Yohanan is married to Amy and they have three children. There have been many changes in Yohanan's life but his passion for the Lord and his desire to serve him has never diminished.'
Further Conference Details:
As we are having a blended conference, so that whether you are near or far, you can join us. We will host the event in person at the Faith Mission Centre, Edinburgh, or you can join us online using Zoom (code will be issued closer to the time). Number in-person will be restricted, keeping in step with any social distancing guidelines that might be in place at that time. Save the date: Saturday 30th October 2021, 10am-1pm.
Booking:
If you would like some printable publicity to share with your local congregation, please click on the links below: